Cash Bids
| Delivery Start | Futures Price | Basis | Cash Price |
| --- | --- | --- | --- |
| Corn | | | |
| Soybeans | | | |
Quotes are delayed, as of October 21, 2021, 01:36:17 PM CDT or prior.
All
grain prices
are subject to change at any time.
Cash bids are based on 10-minute delayed futures prices, unless otherwise noted.
---
Futures Quotes
Quotes are delayed, as of October 21, 2021, 01:36:17 PM CDT or prior.
---
Ag Market Commentary
Double Digit Draw Down for Soybeans

Front month beans are giving back 19 3/4 to 22 3/4 cents through midday. For November contracts that offsets Wednesday's gains. Soymeal futures are also in the red, down by $5 to $6.30/ton. BO futures are down 151 to 199 points, with Dec near 62.71 cents/lb. Malaysian Palm Prices fell...

Hog Futures Down Another Triple Digits

Front month lean hog futures are working another triple digits lower so far through Thursday's midday. Losses are limited to $2.27 so far. USDA's National Average Morning Base hog price was $65.19 after dropping another $1.02 drop. CME's Lean Hog Index was 74 cents weaker to $85.89 on 10/19. Export...

Wheat Prices Working Lower

The Thursday wheat market is giving back some early week gains with pullbacks through midday. CBT futures are down 8 1/4 to 9 3/4 cents so far. HRW is trading 11 1/4 to 12 cents weaker. Spring wheat futures are 5 1/4 to 8 cents in the red. USDA had...

Cattle Down Triple Digits at Midday

Through Thursday's midday, live cattle futures are down $0.92 to $1.05. October futures still had 2,913 contracts of OI as of 10/20. USDA reported cash trade for the week was wide ranged from $123 - $127 on Wednesday. Central Stockyard's second FCE auction resulted in no sales. packers bid mostly...

Cotton Dropping 4 Cents

Midday cotton prices are trading in the red with losses of at least 411 points. December is down the most giving back 445 points to near 106.28 cents. Cotton export sales during the week ending 10/14 were 391,796 RBs. That was up 167% from the week prior, and 72% above...

Corn Prices Red for Thursday

Corn markets are pulling back on Thursday through midday. The board is 4 to 6 3/4 cents in the red. USDA announced a large private export sale to Mexico this morning, for 130k MT of corn. The weekly Export Sales report showed 1.27 MMT of corn booked during the week...
---
Weather
Radcliffe, Iowa (50230)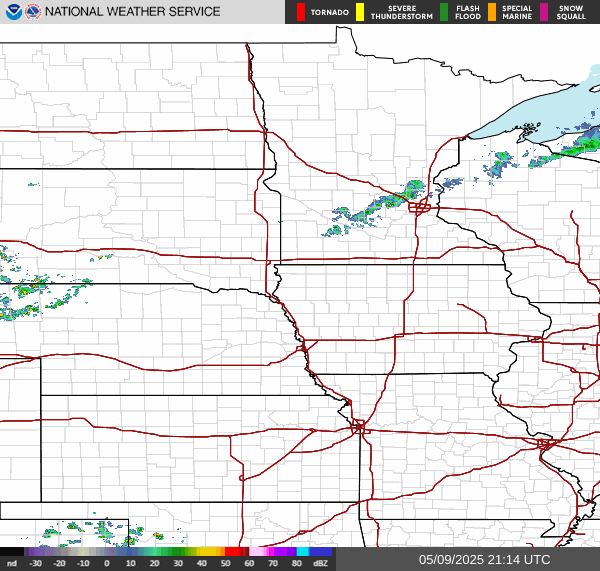 ---
Forecast
Thursday

53°




42°




Friday

54°




33°




Saturday

59°




33°




Sunday

53°




43°




Monday

53°




40°




Tuesday

°




°



---